Healthy New Year
with RealSweet® Sweet Onions
Let's start the New Year on a healthy foot! Sweet onions are full of nutrition and antioxidants that will keep you going all winter long. What is your favorite way to cook sweet onions?
Keep scrolling for a round-up of some of our go-to healthy recipes!
Seared Scallop Salad with Quinoa & Caramelized Sweet Onion Vinaigrette
Food Network Chopped Champion Shannen Tune shows us how to make this simple but elegant Seared Scallop Salad with Quinoa and a Caramelized RealSweet Sweet Onion Vinaigrette. A healthy, delicious salad option to mix up your dinner routine! 
Citrus Salad with Sweet Onion Dressing
This amazing salad with sweet onion dressing highlights some of the freshest items of the fall and winter months - citrus and sweet onions. It is a healthy, colorful, and delicious recipe to enjoy for either lunch or dinner. 
Sweet Onion & Strawberry Spinach Salad
In the winter, strawberries from Florida and California are plentiful in the grocery store and this salad will have you daydreaming of a warm summer day. It's delicious for lunch or makes a great side to roasted chicken breast. 
Sweet Onion Salad Dressing
Making a delicious, homemade salad dressing is easier than you think! This simple sweet onion dressing is made with ingredients you probably already have in your pantry. The zesty, tangy flavor is perfect for topping off your favorite salad.
Sheet Pan Shrimp & Sweet Onion Fajitas
These shrimp fajitas are so easy to throw together for a quick, easy, and healthy weeknight meal with little cleanup. Shrimp, peppers and sweet onions all cook at the same time on one sheet pan for a dinner that's ready in 30 minutes. Top with your favorite fajita toppings like lettuce, tomatoes, salsa, and guacamole!
Chicken & Veggie Pasta with Sweet Onions
This simple, veggie-packed pasta dish is ready in just 30 minutes for a quick and easy weeknight dinner! Filled with chicken, broccoli, carrots, onions and tomatoes, this pasta is equal parts hearty and delicious!
Caribbean Pork Tenderloin with Sweet Onion & Mango Salsa
Pork tenderloin can be a healthy addition to your dinner rotation. We've added a vibrant and delicious sweet onion and mango salsa along with Caribbean jerk season to spice it up a bit! This simple but flavorful dish is sure to impress your family.  
Chicken Bacon Ranch Salad 
Grilled chicken, sweet onions, and seasonal veggies all come together for this delicious recipe. It's the perfect salad for lunch or dinner! Recipe and photography by Jodi Danen of Create Kids Club.
Classic Sweet Onion Soup
Nothing is cozier in the winter than a warm bowl of soup, and this one is sure to be a crowd-pleaser. Sweet onions give this classic soup depth of flavor that brings it to the next level.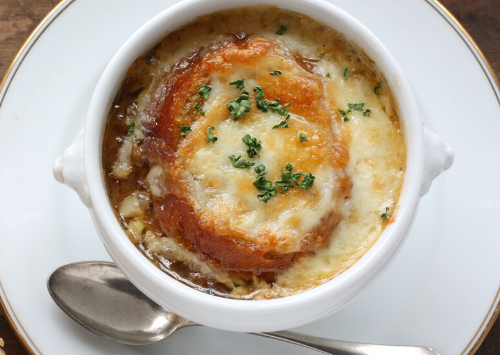 Looking for more information about health and wellness? Our friends at the Healthy Family Project have information to keep you and your family going this winter! Check out some of their most popular posts:
FoodRx: All About Plant-Based Diets
Plant-based is the hot term in food today, but what does that mean exactly? Healthy Family Project's registered dietitian, Julie Harrington, takes a look. 
Do Kids Need More Protein?
Sally Kuzemchak, another one of Healthy Family Project's registered dietitians and author of realmomnutrition.com, breaks down the importance of protein for growing kids plus provides a list of 20 protein-rich foods that you'll want to make sure to include in your family's meals. 
Podcast: Meal Panning for Beginners
Want to meal plan but not sure where to start? Brenda Thompson from MealPlanningMagic.com chats with Healthy Family Project host Amanda Keefer and shares her tips and ideas about how to get started.