Gather Around the Table
Holiday Recipes from Our Family to Yours
Is that time of year where we gather with our family and friends to celebrate the Holidays. This year's holiday meals may look a little different, but no matter how we gather we are sure that delicious dishes like these will be on the menu! 
Here is our round-up of some of our favorite holiday recipes from our family to yours: 
Sweet Onion & Potato Au Gratin 
Food Network Chopped Champion Shannen Tune shares this amazing Sweet Onion & Potato Au Gratin that is the perfect side dish for any holiday meal. 
Caramelized Sweet Onions
Once these caramelized sweet onions get going on the stove, not only will your kitchen smell like holiday cooking, you will create a versatile ingredient that can be added to any dish. You can serve them on top of toasted baguette slices with your favorite cheese or use as a base for any of the dishes below. 
Sweet Onion Cornbread
We can think of a better addition to your favorite cornbread recipe than sweet onions. Plus, cornbread is the perfect side dish to bring with you to your next gathering or pot lock - no need to keep it warm or cool. 
Sweet Onion & Bacon Jam with Brie
You cannot go wrong when sweet onions, bacon, and brie are all in the same recipe. This mouthwatering appetizer will sure to impress all of your guests!
Classic Sweet Onion Soup
Nothing starts off a holiday meal than a warm bowl of soup and this one is sure to be a crowd-pleaser. Sweet onions give this classic soup depth of flavor that brings it to the next level.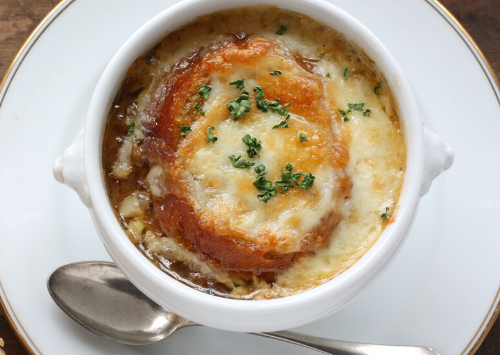 Baked Sweet Onion Dip
Three simple ingredients help this appetizer come together so quickly! It is the perfect dish to serve while your guests are waiting for the main course.