Beef Stew with Baby Vidalia Onions
Nothing is more hearty during the winter months than beef stew. This version, made with baby Vidalia® onions, is perfect. 
We know how hard it is to wait so long for Vidalia season to come back around. As their name implies, these baby Vidalias (also known as Vidalia salad onions) have the sweet flavor of a fully mature Vidalia and are ideal for soups, stews, stir fry, and so much more.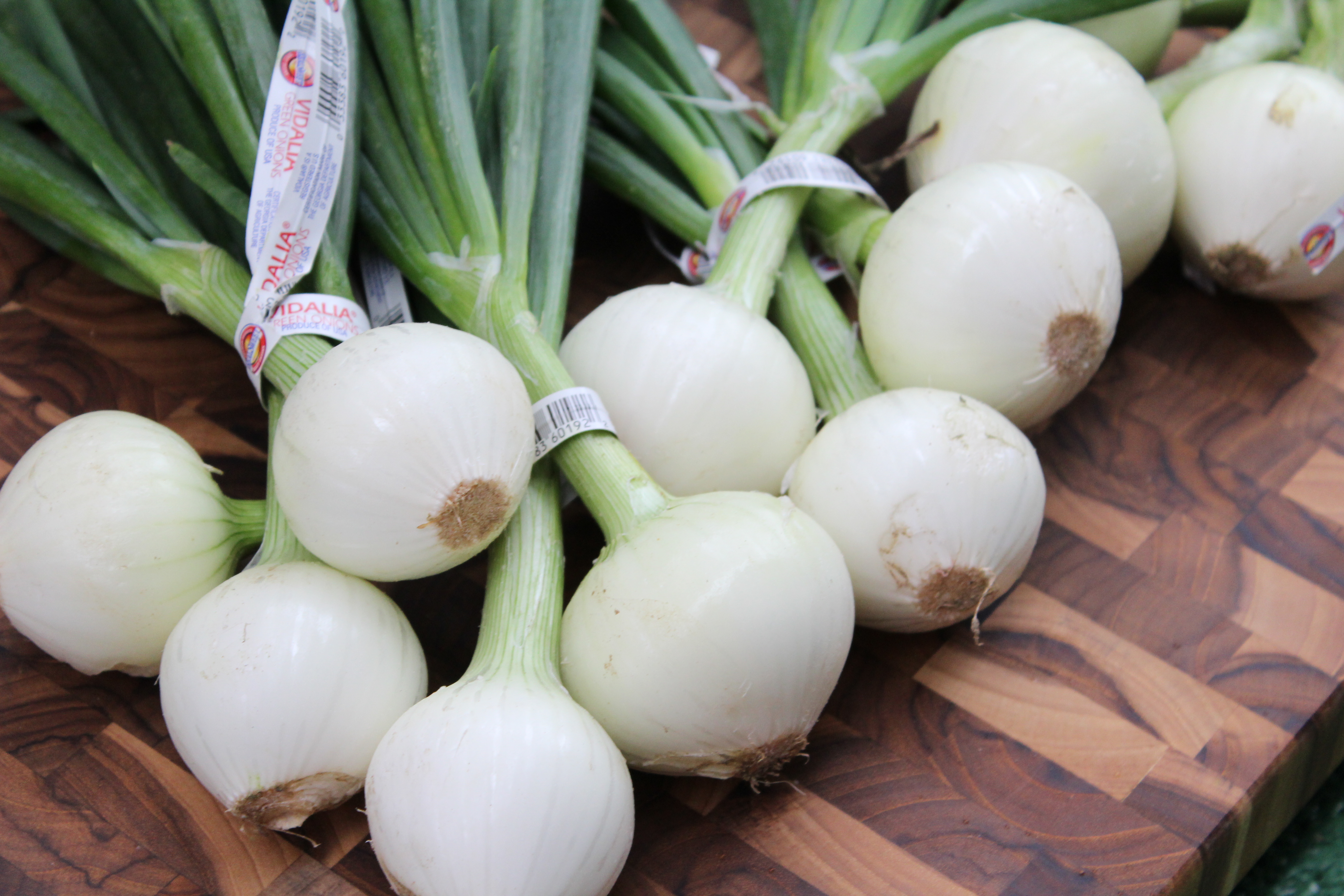 Get them before they grow up! They are only available from November through mid-March. 
This recipe was developed by our friend Tracy Shaw from Food Wine Sunshine. Want more recipes from Tracy? We suggest checking out her BBQ Cheeseburger Folded Quesadillas or Creamy Chicken & Caramelized Onions Skillet.
Ingredients
Olive oil cooking spray
2-2 1/4 pounds sirloin steak, diced
Salt and ground black pepper
2 baby Vidalia onions, diced - approx 1 cup (save the greens for serving)
2 large carrots, peeled and diced
2 celery ribs, diced
3 cloves garlic, minced
8 ounces baby bella mushrooms, sliced
3 tablespoons all-purpose flour
2 tablespoons tomato paste
1/2 cup dry red wine
3 cups beef stock
1 tsp dried thyme leaves, if using fresh, use 4 sprigs
2 bay leaves
2 russet potatoes, peeled and cut in 1/2-inch chunks
Instructions
Heat olive oil spray in a large stockpot or Dutch oven over medium heat.
Season steak with salt and teaspoon pepper and add to the pot. Stir occasionally, until evenly browned, about 6-8 minutes.
Add onion, carrots, and celery. Cook about 3-4 minutes, stirring occasionally.
Add garlic and mushrooms, stirring occasionally, cook about 3-4 minutes.
Sprinkle in flour and stir well.
Add in tomato paste, thyme, and bay leaves and stir well.
Pour in wine, scraping any browned bits from the bottom of the pot.
Stir in beef stock and bring to a boil; reduce heat, add in the potatoes and simmer for at least 50 minutes until beef and potatoes are tender.
Remove and discard bay leaves before serving and top with diced greens from baby Vidalia onions.
You can leave your beef stew on the stove longer, just cover and reduce the heat. We often will let it simmer on low for 2 - 3 hours before serving. 
If you don't have red wine, don't worry! Use 1/4 c. red wine vinegar instead. 
Prep Time
20 min
Cook Time
2 hrs
Yield
6 servings